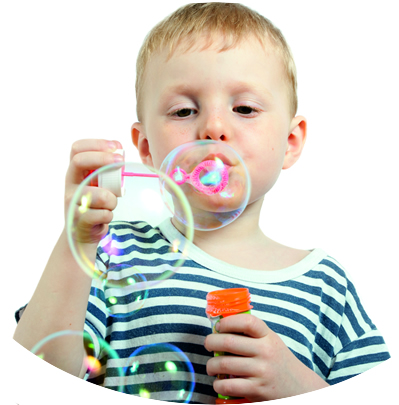 George
I came to Emma for an assessment for my six year old son as he was really struggling at school and I just knew that something was hindering him. Through detailed testing Emma was able to diagnose Dyspraxia and Sensory Integration issues. He began weekly sessions and has just been discharged from her care. He is a boy transformed. When he started he really struggled to hold a pen, he now writes happily and his writing skills are improving daily. At the beginning reading was a real challenge, he is now on the top reading level for his class. Where he could not concentrate at school and would struggle to take anything in, he now sits well and really concentrates. Whereas previously he would resist climbing and exploring in the playground he now revels in it and after being thrown out of nearly every swimming class in the area for disruption bought on from a fear of water I now cannot get him out of the swimming pool so keen is he on diving to the bottom like a fish. Most importantly his confidence and self esteem have soared and in comparison to how he was six months ago he is so much happier. Whilst we realise he will always find some things a challenge (doesn't everyone in life struggle with something or other afterall?), he now knows that if he takes his time he will master whatever he needs to. Emma is an amazing therapist, she built a wonderful relationship with my son and he has grown to love her dearly and tells me he is really going to miss seeing her regularly.
Felix
We have seen significant benefits as a result of sensory integration occupational therapy. My son does less spinning, his dribbling has stopped, he now knows what it means to be dizzy, which unfortunately also means he feels sick in the car, his core strength has improved and he seems generally calmer. He is no longer shattered at the end of the day, which I take to mean life is somewhat easier for him. Thank you for pushing him so hard, he simply loved the sessions. "Mummy says that I don't do as much spinning now" Felix.
Theo
Theo started having OT sessions with Emma in September 2013 and completed them in May 2014. During this time he made some excellent progress. His main issues are sensory processing disorder and low muscle tone in his upper body; OT has helped strengthen him, given him confidence and encouraged him to 'have a go' much more readily. Theo immediately warmed to Emma; she recognised very quickly how to work effectively and in a fun way that would help Theo to make progress. She would always incorporate his interests and discussions in to activities to keep things interesting to him. The majority of the time he would participate in the way Emma asked him to and if he wouldn't she could usually encourage him to or move him on to the next activity in an appropriate way. When Theo first started OT with Emma he was cautious, physically behind children of his age group, lacked coordination, mobility and balance and had some behavioural issues. After seven months of weekly sessions we can honestly say he has made absolute strides in all areas. Physically he has really developed, he confidently rides a scooter now, has much more balance and ability to climb and pull himself up on to equipment such as climbing frames. He has started to use monkey bars which has been a real joy to us and has proved to be a real sense of achievement for Theo. We know that OT has been a major contributing factor in the progress that he has made. As parents we really believe that life is better for Theo since he has had OT. Because he has come on so much physically we really feel it has affected his overall confidence and in turn his behavioural issues have calmed and he just seems so much more 'comfortable in his own skin'. He has much more of a 'have a go attitude' and is so much more willing to try and persist in all areas than he was previously, which has been brilliant for him given that this has been going on during his year in reception. He is able to sit still for longer, concentrate more and focus. His handwriting and his fine motor skills generally have really developed. When his sessions were drawing to an end he complained that he didn't want them to – he had enjoyed them so much! Emma is an excellent OT who I can highly recommend; she sets goals and plans accordingly to help children make progress. She is fun, energetic and very knowledgeable in her field. She liaises closely with parents, teachers and anyone involved with the child to ensure everyone is working to help the child make the best progress possible. We always sat in on Theo's sessions each week so can say with absolute certainty that OT with Emma is fun, productive and produces results.
Joshua
We contacted Emma as we desperately needed help for our little boy Joshua (7). He has a diagnosis of ASD as well as Hypermobility Syndrome and poor muscle tone. He was struggling so much at school and was on a part-time timetable due to stress and anxiety. He didn't want to leave the house, had poor fine and gross motor skills and poor concentration. He never went anywhere without an armful of muslin cloths, chewing them constantly. Emma carried out a full assessment on Joshua and he was found to have many sensory processing difficulties. We began Sensory Integration Therapy immediately. The weekly sessions are without a doubt the best part of Joshua's week. Emma makes sure each session is led by Joshua whilst she is also working on all the sensory areas he struggles with, following targets set out in a goal sheet. As far as Joshua is concerned, he goes to see Emma and they climb volcanoes, dodge lava and pretend they are in Minecraft. He has even stood on the winners podium at The Olympics! He absolutely loves it. As a result of the therapy Joshua is now in school full-time, he is not so anxious about new experiences, his motor skills and balance have improved and he is so much more confident. This has had a big knock-on effect on the whole family as his brothers and sister are not so worried about him. He has even stopped carrying around his muslin cloths! We cannot recommend Emma highly enough. We feel like we've got our happy little boy back.
Bella
My daughter was diagnosed with Sensory Processing Disorder and received over a years worth of sensory integration therapy with Emma Mocrei. This therapy changed my daughter's life. Emma quickly identified the specific difficulties she faced and slowly gained her trust. As a result she become much more confident physically and socially, her handwriting improved dramatically and her ability to concentrate in the classroom increased. She has changed from a very distressed and withdrawn little girl into a very happy, lively little girl who can now participate in all aspects of school life along with her peers.
Bodie
When we were first advised that our son would benefit from Sensory Integration Therapy due to his Hyper-mobility and developmental delay, we were sceptical, we did cursory web research but were still unsure of what to expect. Following meeting Emma and discussing the Occupational Therapy assessment, our priorities were taken into consideration and what realistic results could be achieved from the therapy were explained clearly. Emma quickly formed a firm friendship with our anxious little boy, gaining his trust and finding his comfort zone/familiar favourites to calm and soothe him but also to encourage him to push himself. It was fabulous seeing how he was subtly nudged out of his repetitive 'comfort' play behaviours whilst feeling under no pressure or aware of the constant professional assessment he was under, he looked forward to his sessions explaining that he was "going to play with Emma now". The physical and emotional improvements were noticeable almost immediately, his confidence rocketed, the boy that would get nervous in company began exclaiming "Hi" to passers by in the street, his fine motor skill development also improved from being averse to cutlery, he started wielding a spoon, all this was being achieved whilst he thought that he was in control and playing! Throughout the course of treatment Emma continued to explain the small breakthroughs, what further improvements she was looking/hoping for and tips to support his development at home. Although we have now completed our course of therapy, we intend to return to Emma for periodic reviews and advice for his continued development. We would recommend Sensory Integration Therapy and Emma's services without hesitation.